"This site contains affiliate links to products. We may receive a commission for purchases made through these links."
Every homemaker's dream is to prepare food that tastes amazing and also does wonders for the body. Oftentimes, people assume that vegan households probably survive on leafy vegetables or boring salads. However, in reality, it is the complete opposite.
Whether you consume almond milk because of your vegan lifestyle, your lactose intolerance, or simply because you love vegan food, this article is just for you. Not only does it taste amazing, but it also has far fewer calories and fat molecules compared to animal-produced milk.
No holiday season could ever be complete without delicious homemade desserts that offer homely comfort and bring the family together. Do not put away your apron just because you cannot cook with dairy milk. Instead, get ready to prepare the best vegan desserts of your life using completely natural vegan ingredients, and almond milk.
From aromatic baked goods to chilled fruity desserts, this holiday season, we have got you covered. All you need is fresh almond milk. You can choose to purchase your almond milk from the neighborhood grocery store or make fresh homemade almond milk at home by yourself.
Making Almond Milk at Home
To make delicious almond milk at home, simply wash two pounds of organic almonds and let them soak in water overnight. In the morning, gently remove the skin from the almonds and put them in a strong grinder. Add one cup of filtered water and grind until a fine almond and water fixture is formed. Lastly, strain the mixture through a cheesecloth or a fine mesh to separate the smooth almond milk from the solid residues.
You can refrigerate the almond milk in a glass or metal bottle for more than three to five weeks. To enhance the aroma, you can add a few drops of almond extract. Voila, your almond milk is ready for some exciting holiday season cooking!
Continue reading to learn in detail about five desserts that you can prepare for the holiday season using delicious and healthy almond milk.
Top Five Holiday Season Desserts that Can be Made Using Almond Milk
Almond Milk Butter Cookies with Chocolate Chips
There could be no aroma as breathtaking as a tray of freshly baked butter cookies. Not only will it transform the ambiance of your kitchen, but your family will keep coming back for more. These chocolate chip butter cookies would have far fewer calories and will taste twice as good with the delicious nutty flavor of fresh almond milk.
To make a hearty batch of twelve almond milk butter cookies with chocolate chips, you need the following ingredients:
Flour
Baking powder and baking soda
Salt
Vegan butter (you can find it at any vegan grocery store)
Granulated brown sugar
Almond butter
Unsweetened almond milk
Vanilla essence
Vegan chocolate chips
Follow the following recipe to prepare the ultimate festive almond milk vegan cookies:
In a bowl, mix all your dry ingredients, which includes flour, baking powder, baking soda, and salt.
Place three tablespoons of room temperature vegan butter in a bowl, and use a beater or hand mixer to beat the butter until it reaches a smooth, creamy consistency.
Add three to five teaspoons of the granulated brown sugar gradually into the butter and keep beating to keep the consistency smooth.
The tip here is to take a spoonful of the mixture out of the bowl and check the consistency with your fingertips. If the sugar particles feel excessively grainy and large, you need to continue mixing until you get a uniform consistency.
Add one and a half tablespoons of almond butter and continue mixing.
Add one cup of almond milk (which would replace the need for eggs) and a few drops of vanilla essence and continue to mix well.
Once your wet ingredients are well mixed, gradually add in the dry ingredients and continue to mix.
At this stage, the golden tip is to use a fork instead of a spoon to mix the cookie dough well.
This is important because the fork would allow the ingredients to pass through more efficiently, and will do a better mixing job.
Lastly, throw in half a cup of vegan chocolate chip cookies and mix well.
Put oil on your hands and take out a spoon full of the cookie dough into your greased hands. Roll the dough into a smooth bowl and gently press it from the top as you place it on a greased baking tray.
The tip here is to place every individual cookie at least an inch apart from each other to allow sufficient space for the cookies to expand during the baking process.
Place the baking tray into an oven and bake at 350 degrees Fahrenheit for thirty to forty minutes.
Serve the cookies while warm with fresh almond milk and enjoy an evening filled with delicious almond milk goodness.
Almond Milk Strawberry Pudding with Biscuity Crust
Ever want to spend an evening just by yourself, cozied up in a blanket with your favorite show on? We do too!
With all the festivities of the holiday season, everyone needs a moment alone to relax and enjoy the much-needed solitude. To make your time even better, we bring you our ultimate almond milk and strawberry comfort dessert.
Our almond milk strawberry pudding with biscuity crust dessert is extremely easy to make and will certainly make you want to make it over and over again.
To prepare a dish of deliciously tempting almond milk dessert, you need the following ingredients:
Two cups of unsweetened almond milk
Natural vanilla extract
One tablespoon of lemon juice
Icing sugar
Cornstarch
Mashed banana or applesauce to replace the eggs
Almond milk
Strawberry puree
Fresh strawberries
Plain biscuits
Vegan butter
Follow this recipe to prepare this festive and comforting almond milk and strawberry pudding:
Place a plain saucepan on low heat and add the icing sugar, salt, cornstarch, almond milk, and strawberry puree. You can purchase the puree in a can or blend and strain some fresh strawberries to make it at home.
Keep mixing the ingredients gently until everything has fully dissolved into one another and a lump-free uniform mixture is achieved.
Allow the mixture to come to a boil and remove the saucepan from the heat.
In a separate bowl, add your mashed banana or applesauce, and pour in some almond milk.
Put the saucepan on a low flame again, and keep stirring as you gradually add the mashed banana or applesauce and almond milk mixture.
Bring the ingredients to another boil and carefully taste the mixture to check the sweetness. You can add more sugar if you feel the need to, just remember to mix in the sugar well.
Remove the saucepan from the heat and add in a few drops of natural vanilla extract, and mix.
Pour the almond and strawberry pudding into a glass bowl and put it aside in the fridge.
Follow these steps to prepare the biscuity crust:
Throw two large packs of any plain biscuit that you like in a food processor and hit start. Keep grinding until the biscuits have turned into a finely crushed form.
Melt two to three tablespoons of vegan butter and pour it into the food processor. Allow the food processor to mix the butter and crushed biscuits until a soft dough-like consistency is achieved.
Remove the biscuity dough from the processor and layer it into a glass dish till every part of the dish's surface is fully covered.
To make sure the biscuity dough forms a uniform thin crust, use a silicone spatula to even it out and press it into a dense crust.
Place the glass dish into the freezer for ten to fifteen minutes.
To assemble the dessert, here's what you need to do:
Remove both the almond milk strawberry pudding and biscuit crush from the fridge.
Cut a cup of fresh strawberries into thin slices and place them on the cold biscuity crust.
Pour the almond milk strawberry pudding onto the biscuity crust till every part of the crust of sliced strawberry is fully concealed.
Place the dish into the freezer for thirty to forty minutes, till every ingredient is set and cold.
For a more tempting texture, you can add some more sliced strawberries, vegan chocolate shavings, or crushed almonds on top of the dessert. Finally, slide into your blanket and enjoy as your body unwinds and relaxes with every bite you take.
Almond Milk and Coconut Vanilla Halo Top Milkshake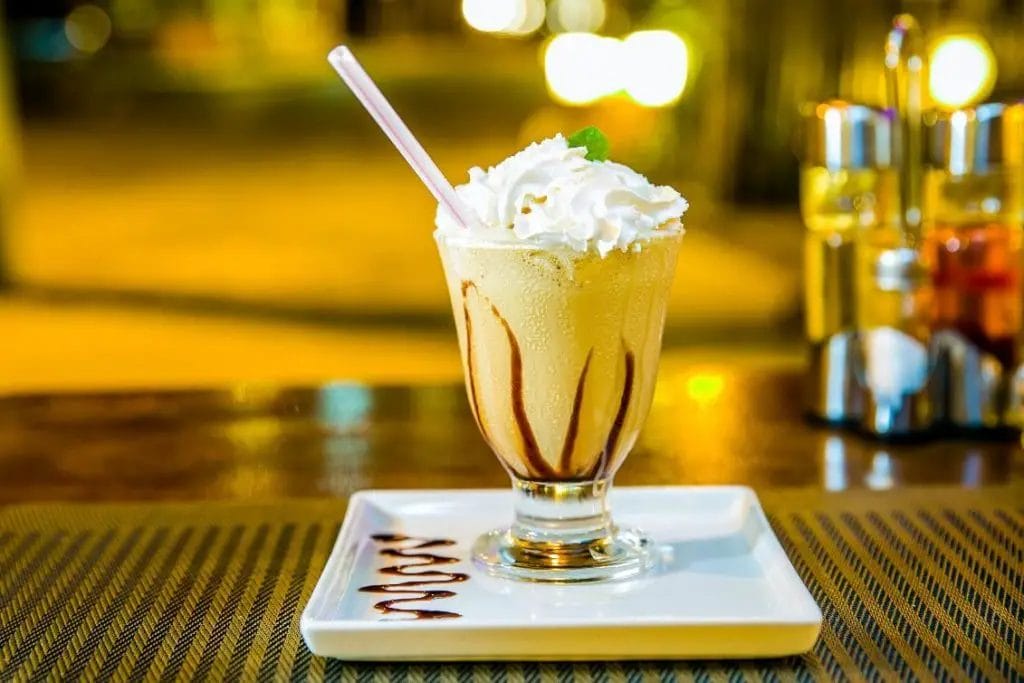 This milkshake has been one of our top holiday season desserts for more than five years now. Not only is it extremely easy to make, but it is also packed with delicious and nutritious ingredients to keep your energy and spirits high throughout this season.
Our almond milk and coconut vanilla halo top milkshake is excellent for both children and adults, as it contains energizing ingredients without increasing the total calories. You can serve it after a festive dinner, or prepare small shot glass servings of it for a fun-filled outdoor barbeque party.
Although you can use any vegan ice cream for this dessert milkshake, our favorite and most recommended one is the Halo Top low-calorie vanilla bean ice cream.
To prepare this delicious almond milk dessert milkshake, you need the following ingredients:
Small bucket of Halo Top vanilla bean ice cream (or any other dairy-free vanilla bean ice cream that is easily available)
Unsweetened coconut in shredded form
Vegan almond butter
Unsweetened almond milk
Crushed almonds
Vegan chocolate syrup
Whipped vegan cream
Take a tall and wide beverage glass and follow this recipe to prepare the holiday season milkshake of your dreams:
a strong blender, add two scoops of Halo Top vanilla bean ice cream, shredded coconut, one tablespoon of almond butter, one cup almond milk, and blend.
Drizzle some vegan chocolate syrup on the walls of the glass and pour the milkshake into the glass.
Add a swirl or vegan whipped cream on top.
Lastly, sprinkle some crushed almonds on top and enjoy!
Almond Milk Fudgy Pudding Pops
To beat the heat and keep your children happy this holiday season, you need to try our chocolate fudge pudding pops made with almond milk. These are extremely easy to make and you can refrigerate them for as long as a month.
Our almond milk fudgy pudding pops are fantastic for fun birthday parties, Thanksgiving dinners, and Christmas mornings. Their thick consistency, silky texture, and nutty flavor make them an instant hit, no matter what the occasion.
To make a batch of six to eight almond milk fudgy pudding pops, you would need the following ingredients:
Coconut sugar
Unsweetened chocolate flavored almond milk (you can choose to buy some from a vegan grocery store or prepare at home using fresh almonds, filtered water, and vegan chocolate)
Cornstarch
Unsweetened vegan cocoa powder
Salt
Natural vanilla extract
One ripe avocado
Bittersweet vegan chocolate
To prepare the almond milk fudgy chocolate pops, follow these steps exactly as directed:
Place a medium sized pan on a low flame.
In the pan, add your chocolate flavored almond milk, sugar, cornstarch, and vegan cocoa powder.
Keep mixing the ingredients with a whisking tool until no lumps remain.
Allow the mixture to come to a boil until it turns to a thicken, fudgy consistency.
Remove the pan from the heat and set aside to cool.
In a food processor, crush the bittersweet vegan chocolate until it is broken down to tiny pieces.
While the mixture is still hot, add the crushed bittersweet vegan chocolate into the mixture and mix gently until the chocolate completely melts.
In a larger bowl, put some water and ice. Place the pan with the chocolate fudge mixture into the bowl, and allow it to cool down for at least 20 to 30 minutes. During this, make sure to keep stirring so that the consistency remains silky and smooth.
Once the chocolate fudge has cooled down, pour it into a blender.
Remove the peel and the pit of the avocado and chop the fruit into small chunks.
Add the avocado chunks into the blender, along with a dash of salt, and a few drops of natural vanilla extract.
Hit start until all the ingredients have blended together nicely.
Carefully pour the mixture into silicone or plastic ice cream or pop molds.
Insert a pop stick into each filled mold and place them in the freezer for two to three hours.
You can serve these delicious almond milk fudgy chocolate pops directly, or place them on a platter for a more elegant presentation. For better aesthetics, you can add some edible glitter or sprinkles on top.
Moreover, you put the uneaten or extra fudgy pops back into the freezer and store them for more than a month.
Banana and Almond Butter French Toast Sandwiches with Vegan Ice Cream
Holiday season festivities do not have to begin after the sun sets; instead, you need to focus on celebrating every single moment of the season with your friends and family. This is the time of the year when you get to pull back from your occupational responsibilities and just celebrate life, hence every meal counts.
This means that the festive culinary experience should begin as soon as you are up. Vegan breakfast does not end with a bowl of oatmeal. Instead, this last recipe will help you make the best holiday season breakfast that you have ever had.
We bring to you banana and almond butter French toast sandwiches that we serve with a hearty scoop of vegan vanilla ice cream. We give you our word that once you give these babies a try, you might end up eating them for breakfast all year around.
For this festive take on French toasts, you might need a panini press to get the right level of crispiness. However, if you do not have the press, a simple frying pan and vegan butter would do.
To make the banana and almond butter French toast sandwiches, you need the following ingredients:
Mashed bananas to replace the need for eggs
Unsweetened almond milk
Almond butter
Ground cinnamon
Natural vanilla extract
Organic maple syrup
4 to 5 slices of organic multigrain bread (simple bran or white bread would also do)
Banana
Vegan butter spray
To cook two servings of these French toasts, follow the following steps:
Mash a banana into a bowl until it reaches a smooth and silky consistency.
In the same bowl, add one cup of fresh unsweetened almond milk, cinnamon powder, and natural vanilla extract.
Mix all the ingredients with a whisking tool until a smooth mixture is formed.
In a separate bowl, add one tablespoon of almond butter and two teaspoons of maple syrup. Mix well with a fork.
Put the four slices of bread on a tray and spread the almond butter and maple syrup mixture on one side of two slices.
Cut a halved banana into thin slices and put them on the remaining two slices of bread.
Put the slices with the almond butter and maple mixture onto the slices with the banana, so that the ingredients are facing each other.
Press the two sandwiches till the ingredients are tightly locked inside. A tip is to press the edges of the sandwiches a little more to completely seal the ingredients inside.
Dip the two sandwiches into a bowl that has the almond milk, banana, cinnamon, and vanilla mixture.
Completely coat both sides of the sandwiches with the wet mixture.
Put a frying pan on a medium flame and grease its insides with a vegan butter spray.
Carefully put both the sandwiches on the base of the pan and fry until all sides get crispy and turn a beautiful golden brown.
Plate the French toast sandwiches on a platter and sprinkle some icing sugar on top. You can drizzle some extra maple syrup or organic honey, and add some chopped fresh berries on top to make the breakfast even more fantastic.
Lastly, add a large scoop of your favorite vegan vanilla ice cream on top and enjoy a festive breakfast like no other!