"This site contains affiliate links to products. We may receive a commission for purchases made through these links."
Light and fluffy macaron with a hint of vanilla and a decadent chocolate ganache center, these tasty treats are to die for!
But be forewarned ​macarons ain't easy. But they are worth it.....
Needless to say my first attempts were a bit of a disaster. 
The real secret(if there is one) is to make sure your measurements are exactly as per the recipe you are using.
Any deviation particularly in the amount of egg that you use will have a dramatic effect on the quality of your finished macarons.​
Also make sure your eggs are at room temperature before you start. The one sure fire way to get the at the right temperature is just to leave them out overnight​.
Some cooks insist on leaving their eggs in the fridge all the time. And when they need to use they zap the eggs in the microwave for about 10 seconds.
Personally I prefer to leave out and come up to room temperature naturally.​
The almonds need to be put in the food processor and try to get them as fine as possible the closer to flour the better. You can also add the sugar with them to make sure the two are evenly mixed. ​
Vanilla wise try to find the best beans you can. This is not a recipe for vanilla essence so try to clear if you can.​
One tip for vanilla beans is that if they are too old and have been in your cupboard for a long time then they will tend to dry out a little too much and loose a lot of their natural oils and more importantly aroma/flavor.​
And as ever make sure your oven is preheated to the correct temperature.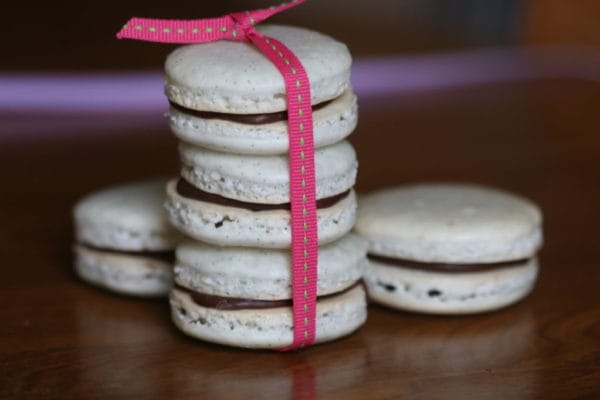 | | |
| --- | --- |
| | |
Combine powdered sugar, almonds and vanilla bean caviar. Put in food processor and let it go for about 2 minutes

Using a stand mixer whip the egg whites while gradually adding sugar until they form stiff shiny peaks

Combine egg whites and dry ingredients. Fold quickly at first then slow down until you have a molten sludge.

Put your macaron mix in a pastry bag and pipe 1.5″ circles. Let sit for 1 hr

Preheat your oven to 300 degrees and cook for 10-12 minutes

Add your filling and eat.
Bring heavy cream to a boil.

Chill in fridge until spreadable