"This site contains affiliate links to products. We may receive a commission for purchases made through these links."
Due to the global accessibility to mainstream internet search engines and social media platforms, people are more aware about what they consume on a daily basis.
In today's world, being fit is being beautiful. This is why the demand for gym memberships, workout equipment, and fitness attire have skyrocketed in the last decade.
Along with the different types of workout opportunities, the world has seen a massive demand for different types of healthy and low-calorie diets.
Consumers are fully aware of what different ingredients can do to their bodies and what they need to consume to fit into society's standards of fitness and beauty.
Hence, the global industry for sugar-free drinks, candies, ice creams, etc., is rising.
Another industry that used to be a niche for many years and now has unlimited growth potential is the global vegan meat market.
Hundreds of new vegan meat brands and companies are constantly trying to enter this fast-growing market to benefit from the profitable industrial boom.
As a matter of fact, celebrities as famous as Kim Kardashian have also recently joined the global trend by becoming the chief taste consultant for one of the most popular vegan meat producers, Beyond Meat.
Moreover, over recent years, fitness enthusiasts and environmentalists have turned to strict vegan diets and have claimed to have significantly benefited from practicing such a lifestyle.
Continue reading to learn what vegan meat is, why people turn to veganism, and how to add vegan meat to all your meals.
Let's get started!
What is Vegan Meat?
People who have not yet come across the modern-day vegan lifestyle or have not done any research on it usually find the lifestyle boring, unappealing, and difficult to sustain.
Such people comment that being a vegan is the same as being a goat.
Usually, people often get confused when they hear the term vegan meat for the first time. Most people understand what a vegan diet is; however, they do not understand where the word meat comes from.
Vegan meat has nothing to do with any form of animal-based meat or product. Instead, the word meat is used to reflect the similarities in textures and even taste.
Hence, many people who consume vegan meat patties or burgers usually cannot tell that they are not consuming traditional animal meat. However, in reality, there are no traces of animal meat, fat, eggs, milk, or oil that go into the making of this "meat."
Due to this, many people who were initially skeptical and discouraged to indulge in the vegan lifestyle as they were not willing to live on salads are now more than eager to become full-time vegans,
Moreover, people can recreate their favorite recipes, such as vegan meatballs, vegan nuggets, vegan butter curries, etc., but instead, they can use vegan meat now.
This is why a massive global population has been encouraged to rely less on animal meat forms and switch to a vegan lifestyle.
How is Vegan Meat Made?
In many countries like the USA, Japan, India, Germany, etc., one can find multiple different vegan meat brands at their local departmental stores. However, not every country has vegan meat substitutes for people who wish to quit using animal-based products.
Fortunately, preparing your own vegan meat at home is very easy if you have some simple ingredients at hand.
The most common ingredients that usually go into all kinds of vegan meat substitutes are different kinds of mushrooms, chickpeas, beans, soy, and tofu.
When these ingredients are combined in the right proportion along with spices and herbs, the meat-like food item produced has a delicious fibrous texture, aroma, and taste, similar to that of animal meat.
This is how you can prepare a very simple and popular vegan meat recipe at home:
, along with some canned mushroom water and olive oil.
Take a bowl of soaked or boiled chickpeas and grind them in another blender until a smooth and thick texture is formed.
Combine the blended mushrooms and chickpeas in a bowl and add salt, pepper, a blend of different herbs, and spices such as cumin and turmeric.
Take some dried tofu and mix it into the mushroom and chickpeas mixture.
For additional flavor, you can add some Worcestershire or soy sauce.
that the mixture resembles dough.
Place your vegan meat dough on a sheet of aluminum foil. You can make a cylindrical loaf or a rectangular cake-like shape.
Place the wrapped vegan dough on a baking tray and bake for at least 15 minutes.
Remove the dough when the vegan meat has hardened and is bound into one homogenous form.
Cool the vegan meat, cut into thinner slices, and place them in a container for storage.
Vegan meat usually has a shorter shelf-life than animal meat. If you cover the meat in aluminum foil and store it in an airtight container in the fridge, the vegan meat will stay good for 10 to 15 days.
However, if you have opened the container, the vegan meat should ideally be consumed within 3 to 5 days.
The same rule applies whether you prepare vegan meat at home or buy processed vegan meat from the store.
Continue reading to learn about the top ways to add vegan meat to your everyday cooking.
Adding Vegan Meat to Your Everyday Meals – What You Need to Know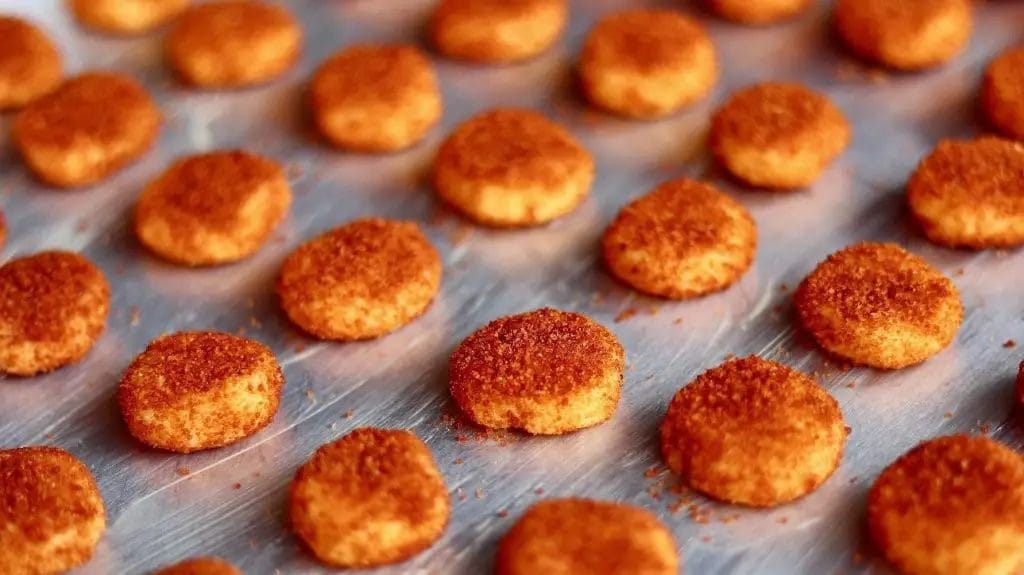 Gone are the days when a plant-based lifestyle was only about eating leafy green salads and consuming lentil soup.
Being a vegan is all about having delicious burgers, pizzas, curries, nuggets, and everything else one can think of, without ever having to think about traditional animal meat.
Moreover, since one will no longer be able to consume the nutritional value of animal meat, they must add some form of vegan meat to get all their required dietary nutrition.
Fortunately, there are ways to incorporate vegan meat into all your meals effortlessly.
Below are some ideas and recipes for vegan meat you can try to make for your breakfast, lunch, and dinner.
Let's dive right into it!
Breakfast Recipes Using Vegan Meat
Breakfast is the most important meal of the day. Skipping breakfast or consuming a low-nutrition breakfast can make you feel sleepy, tired, and unmotivated the whole day.
On the contrary, consuming a nutritious high protein breakfast can set a positive mood for the day, keep you energetic for work or school, and help you remain positive.
Hence, since you will not be eating any pork bacon, or chicken sausages, you need to add some vegan meat recipes to get your needed dose of protein.
Breakfast Vegan Patty Burger
Eating a nutritious breakfast is not about sticking to a bowl of oats or celery juice daily. Instead, you need to switch it up once in a while to stay healthy and motivated in your vegan journey.
The vegan meat patty burger is one excellent breakfast recipe that will help you fall in love with the vegan lifestyle. These are extremely easy to make, are low in calories, and are high in nutritional value.
To make a vegan patty burger, you will need the following ingredients:
Two vegan patties
Olive oil
Tomato slices
Spinach and vegan cream cheese
Canned mushrooms
Vegan mayonnaise and tomato sauce
Burger buns
Here's what you need to do  to prepare your breakfast burgers:
The first step is to pour a little olive oil into a non-stick frying pan and fry your vegan patties.
You can buy your vegan patties from the store  or use the recipe mentioned above to make patties at home.
For the homemade patties, take some stored vegan meat and grind it to make it look like ground beef.
Then use a vegan egg substitute to make the ground vegan meat into a patty and coat the patty with breadcrumbs.
Once the patties are crispy and golden brown from both sides, leave them aside to cool down.
Heat some more olive oil on the same pan and add some cream cheese, baby spinach, and sliced mushrooms.
Keep stirring until a cream spread is prepared.
Toast up some burger buns, and spread some mayo and tomato sauce on either side.
Finally, place the burger patty on the bun, add a tomato slice, and a generous amount of your spinach and creamy mushroom spread.
You can have two of these low-fat breakfast vegan burgers with a cup of coffee on days you need a little extra self-love.
Vegan Sausages with a Fruit Bowl
Vegan sausages are extremely easy to make and can be stored in the fridge for at least two weeks. Use the recipe mentioned at the beginning of the article to make your vegan meat dough.
Then, instead of making one huge loaf, make small sausages from the dough and cover them with aluminum foil for baking.
You can make two dozen vegan breakfast sausages from a medium-sized dough and enjoy them for breakfast every day.
Fry the sausages on medium heat with some olive oil and enjoy them with a size of mustard sauce, green juice, and a fruit bowl.
Vegan Ground Meat Shakshuka
This perhaps is our most popular and well-loved breakfast recipe using vegan meat. You can use this recipe to woo your friends and family during the holiday season or on a cozy Sunday.
To prepare the vegan shakshuka, you need:
Vegan meat
Baby spinach
Eggplants
Canned tomato sauce
Onions
Potatoes
Garlic paste
Olive oil
Bread
Now follow the following recipe:
Add three tablespoons of olive oil into a deep pan and fry up some chopped onions.
Once the onions have turned brown, add your vegan meat and begin mashing it with a spoon.
Continue to do this until the meat looks like ground beef.
Add a whole can of tomato sauce, two teaspoons of garlic paste, baby spinach, and a half cup of water, and stir the ingredients.
Place a lid on the pan, lower the heat, and allow the ground vegan meat to simmer in the tomato paste and water.
Continue to do this until all of the water has evaporated.
Heat and fry up thin eggplant slices on another oiled pan so they are slightly roasted but still soft from the center.
Cut up some potatoes to prepare some chips.
Finally, pour half of the ground vegan meat mixture into a bowl and add some fried chips. Then pour the remaining mixture and top your shakshuka with the fried eggplant slices.
You can eat this delicious and homey shakshuka with a spoon or use it as a dip with some toasted bread.
Lunch Recipes Using Vegan Meat
If you have had a nutritious vegan meat breakfast, you need to have a small portion of lunch. However, do not skip it, as you need to stay energized for the rest of the day.
A simple lunchtime recipe using vegan meat is as follows:
Vegan Mushroom Nuggets
Vegan mushroom nuggets are extremely easy to make and can be eaten for lunch or as a midday snack. For this, you will need:
Your favorite mushrooms
Boiled chickpeas
Soy sauce
Seasoning
Breadcrumbs
Now use the following recipe:
Take the mushrooms and chop them into smaller pieces.
Grind the mushrooms just enough so they have the consistency of ground meat.
Add some chickpeas and a little water to the mushrooms and blend to form the nugget mixture.
Add some soy sauce and taco seasoning for flavor.
Oil your hands and take the nugget mixture to prepare small balls or cubes.
Coat the nuggets with a vegan egg substitute and dip them in the breadcrumbs.
Deep fry the nuggets till they turn golden-brown and crispy.
Finally, enjoy these delicious vegan nuggets with your favorite dip sauce.
Dinner Recipes Using Vegan Meat
If you had a light lunch, you will probably have a big appetite for dinner. Hence, you need a good-sized meal to satiate your hunger.
Below is our most favorite vegan meat dinner recipe.
Fried Vegan Meat and Tofu Steak with Steamed Rice and Vegetables
Our fried vegan meat and tofu recipe is extremely easy to make and will take less than 15 minutes of cooking time. For this, your need the following ingredients:
Soybean tofu
Dried vegan meat
Soy sauce
Olive oil
Sesame seeds
Garlic butter
Rice
Mixed vegetables
Now, follow this recipe:
Take a bowl and mask up some soybean tofu and dried vegan meat till they are thoroughly mixed.
Add a tablespoon of soy sauce for flavor.
Oil your hands and make a steak from the prepared mixture. Keep the patty in the fridge for ten minutes.
Put a cup of rice in a rice cooker and stir the mixed vegetables on a medium flame.
Remove the steak from the fridge, coat it with some melted garlic butter, and fry on a low flame for 3 to 5 minutes.
Plate the fried steak and drizzle more melted garlic butter and sesame seeds.
Serve the steak with some steamed white rice and a side of vegetables.
You can enjoy this hearty yet healthy dinner with a bottle of cold beer and relax as you watch your favorite TV shows.
Why Do People Turn to Veganism?
The number of people willing to embrace the vegan lifestyle continues to accelerate yearly. As a matter of fact, according to veganism 2022 statistics, almost 9.7 million Americans are vegans.
With the option to make and enjoy so many delicious vegan meat recipes, most consumers do not have a significant reason to say no to partial or complete veganism.
The most common reasons for people to practice vegan lifestyles are as follows:
People who are allergic to eggs, milk, or animal protein usually have no option but to stick to an all-vegan diet.
Many cultures and religions, such as Hinduism, restrict the slaughter and consumption of animals. Hence, followers of religions usually practice veganism their entire lives.
Many dietary benefits come from consuming an all-vegan diet.
For instance, plant protein is leaner and has fewer calories than animal protein.
Hence, people practicing a diet or wishing to stay fit usually shift to a plant-based vegan lifestyle and start consuming vegan meat.
Environmentalists or people who are in general passionate about saving animals do not allow animal slaughter to fulfill their dietary needs.
Such people usually consume vegan meat substitutes and voice their opinion to encourage others to do the same.
Some individuals consume vegan meat because they like the flavor and texture of plant-based food items.
These people are usually partial vegans and consume animal-based products such as milk, eggs, butter, etc.
Final Thoughts
If you want to shift to a plant-based lifestyle, there is no better time than now. With the option of using vegan meat every day, you can enjoy all your favorite recipes without feeling like you might miss out on anything.
Whether you want a vegan steak with rice or a shakshuka, vegan meat will help make either of the recipes taste just as delicious as they would with animal meat without being too fatty.
Hence, wait no more and dive right in to explore the world of vegan meat to live a healthy and energetic life.