"This site contains affiliate links to products. We may receive a commission for purchases made through these links."
Are you looking for the right exotic fruit for your next recipe that starts with B? Then this post is for you. Here, we share 41 amazing fruits that start with B that you can choose from and create an amazing dessert, breakfast bowl, and even salad.
While some fruits like bananas and blackberries are quite readily available and you can find them at your local supermarket, others may require you to visit some exotic locations to get them. Let's take a look at this fun list of unique fruits that starts with B so you can choose the right one for your new recipe.
Table Of Contents
Add a header to begin generating the table of contents
1. Babaco
Babaco fruit (Carica pentagona) is a hybrid fruit. The fruit comes from a cross between papaya and toronche. It has a smooth skin and no seeds which differentiates the fruit from papaya.
Most people compare the taste of this fruit as a mix of papaya, pineapple, kiwi, and strawberry.
2. Bacuri Fruit
Bacuri fruit (Platonia insignis, also known as pacuri, maniballi, naranjillo, and bacurizeiro) is native to South America and the Amazon rainforest but can also be found in Brazil, Columbia, and Paraguay.
The fruit features a yellowish-brown skin that resembles the color of a ripened banana. As far as the fruit's taste is concerned, most people describe it as refreshing. But since it is a rare fruit that's not readily available, there is not enough information about the texture and taste of the bacuri fruit.
3. Bael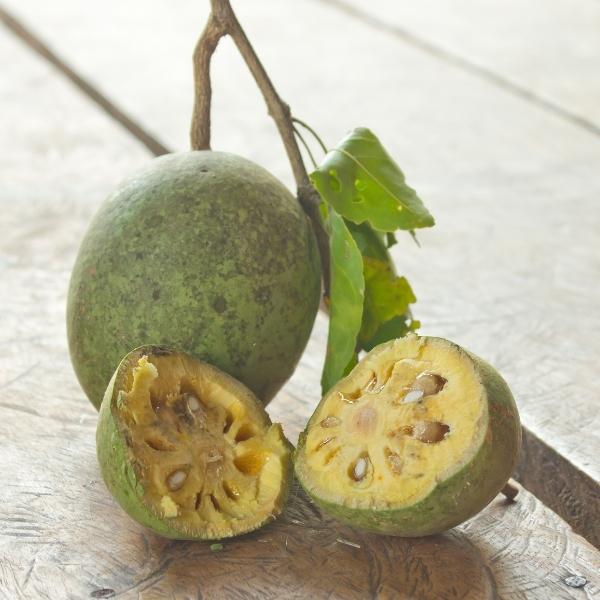 Bael (Aegle marmelos, also known as Bengal quince, golden apple, Japanese bitter orange, stone apple, and wood apple) is typically found in India and Southeast Asia. The fruit is widely used for treating digestive issues and is also considered a traditional medicine that's used to cure hepatitis.
4. Balsam Apple
The balsam apple fruit (Momordica balsamina) comes from the tropical vine that's native to tropical regions of Asia, Africa, and Australia. The fruit has a bright red seed coated with sweet and textured flesh. While young and green balsam apple fruit is edible, it can lead to nausea and vomiting if you consume the ripe fruit.
The fruit is loaded with vitamin C and supports immunity and healthy skin.
5. Banana
Perhaps the most popular fruit that starts with B is banana. Almost all modern edible seedless bananas come from two wild species: Musa acuminata and Musa balbisiana. Banana is a favorite fruit among people of all ages. This highly nutritious fruit can be consumed as a snack, or you can use it to make smoothies, bread, shakes, and even ice cream, and it's delicious in almost all its forms.
Bananas are one of the healthiest fruits globally and are packed with micronutrients such as potassium, vitamin B6 and vitamin C that are critical for keeping your body healthy.
6. Barbadine
Barbadine (Passiflora quadrangularis, also known as the giant granadilla, grenadine, giant tumbo, and badea) comes from the island countries of Trinidad and Haiti and is known for its size and strong flavor that's similar to passion fruit. The fruit has smooth skin and meaty flesh that's often used to make sweet drinks or fruit punch. Barbadine is also used for treating sleeping disorders such as insomnia.
7. Barbados Cherry
Barbados cherries (Malpighia emarginata, acerola cherry, Guarani cherry, West Indian cherry, and wild crepe myrtle) are quite similar to the fresh cherries you see in stores. It is a sweet fruit that's often used to make jams and jellies and is also eaten raw. Barbados cherries are an excellent source of vitamin C that boosts your immunity and keeps you healthy.
8. Barberry
Barberry fruit (Berberis vulgaris) is grown on multiple continents worldwide. The fruit grows on shrubs in clusters, and you must likely have seen this fruit on one of your hikes. The fruit can be poisonous but also possess medicinal properties. Hence, it is used in medical teas but is not readily available at local supermarkets.
9. Batuan Fruit
Batuan fruit (Garcinia binucao, also known as binukaw and batuan) closely resembles the shape of a tomato. However, the fruit is green and not red. You can find the batuan fruit in the Philippines, and it is commonly used in native cooking in the country. Batuan fruit has a distinctly sour taste that spices up meals and soups. However, the fruit is not readily available in the local markets or shops as it grows in the natural forest.
10. Bayberry
Bayberry (Myrica pensylvanica, also known as northern bayberry) is a shrub native to the eastern U.S. and Texas and is known to possess medicinal properties. The berry can be used to treat various conditions of the digestive tract and cold. Some individuals also use this fruit to improve blood circulation.
The fruit tastes like cranberry, pomegranate, and strawberry and has a pit similar to cherry.
11. Beach Plum
The Beach Plum (Prunus maritima) grows along the coastal regions of mid-Atlantic states and also grows in some parts of Canada. The fruit is closely related to the regular plum, but it is smaller in size and not nearly as delicious as the plum.
12. Bearberry
Bearberry (Arctostaphylos uva-ursi) got its name as it is the favorite snack of bears throughout North America. The small red berries are edible; however, when eating them raw, the taste is not as pleasant as most of the other berries that humans enjoy. However, cooking these berries brings a distinctively sweet taste that makes the fruit a great choice for making jams, jellies, and desserts.
13. Beechnut
Beechnut (Fagus sylvatica) is a unique fruit with a Velcro-like exterior that most people do not like. But once you get past the shell, the fruit's interior is edible, and most people like to eat it after roasting in the oven or coating it with seasoning.
14. Berry
Berry is a generic name given to fruits that have a seed (or multiple seeds) and pulp, and the skin of the fruit is often eaten along with the flesh. While there are several types of berries, it is one of the fruits that are a must-have on any list of fruits that start with B.
15. Betel Nut
Betel nut (also known as areca nut) comes from areca palm trees (Areca catechu) and is perhaps the least healthy fruit in the world. In some parts of the world, betel nut is used as a stimulant, and describe the process of consuming betel nut is as stimulating as a strong cup of coffee. Excessive use of raw betel nut can lead to cancers of the oral cavity and esophagus.
The fruit is not used as part of any cuisine.
16. Bignay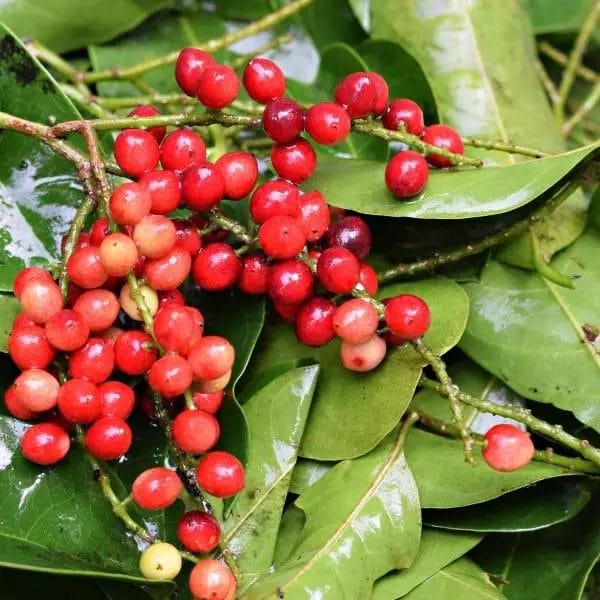 Bignay fruit (Antidesma bunius, also known as bugnay, Chinese-laurel, Queensland-cherry, salamander-tree, and wild cherry) typically grows in bunches. However, each fruit in the bunch ripens at its own pace. As a result, different fruits in the same bunch can be of different colors. The fruit makes a popular choice for making jams, jelly, and even wine.
17. Bilberry
Bilberries (Vaccinium myrtillus, also known as whortleberry, and European blueberry) are quite similar to blueberries, but they are usually smaller in size and darker in color. Bilberries grow wild in the Nordic forests. These delicious berries are perfect for making jams and pies and are also used to add a distinct flavor to crepes.
18. Bilimbi
Bilimbi fruit (Averrhoa bilimbi, also known as cucumber tree, and tree sorrel) comes from the bilimbi tree that's native to Malaysia and Indonesia but can also be found in several other Asian countries. The fruit has a distinctively sour flavor, and it is pickled and served with a variety of local meals.
It's one of the exotic fruits that you can only find in certain locations in the world.
19. Bitter Gourd
Bitter gourd (Momordica charantia, also known as bitter melon, bitter apple, bitter squash, and balsam-pear) has an extremely bitter taste and a shape that resembles a cucumber, and it is closely related to squash and zucchini. But despite its not-so-great taste, it is a popular part of Asian cuisine as the fruit is packed with essential minerals and vitamins that are critical for your health.  
20. Black Apple
Black apple (Pouteria australis, also known by the synonym Planchonella australis and common names wild plum, yellow buttonwood, black plum, and yellow bulletwood) grows in rainforests in Australia. It is a plum-like fruit containing sweet and fibrous flesh. Black apple can be eaten raw, or it can also be used to make jam, fruit juice, vinegar, and cider.
21. Blackberry
Blackberries (for example Rubus fruticosus a.k.a European blackberry, and Rubus ursinus a.k.a Pacific blackberry) are a popular superfood as the fruit is packed with minerals, vitamins, and antioxidants that possess both anti-inflammatory and anti-microbial properties. In a nutshell, blackberries have everything that you need to stay healthy and happy.
22. Black Cherry
Black cherry (Prunus serotina, also known as wild black cherry, rum cherry, and mountain black cherry) is common in North America and South America. Fruits are edible, and they are eaten raw as well as used in wine and jelly. The fruit has also been used to flavor rum and brandy, hence the common name "rum cherry".
23. Blackcurrant
Blackcurrants (Ribes nigrum, also known as cassis) are rich in vitamin C and antioxidants that boost your immune system and help your body fight off infection more effectively.
24. Black Mulberry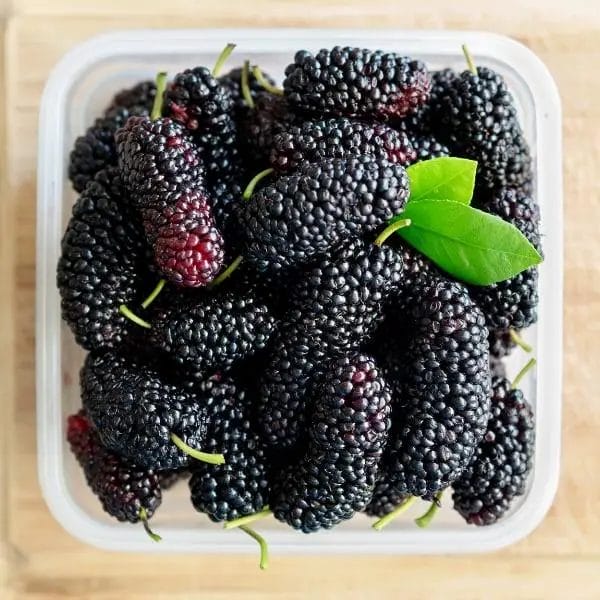 Black mulberries (Morus nigra) should not be confused with blackberries (blackberries are various species of Rubus). These two fruits are unique and have different textures and tastes. Mulberries are less sweet and taste more vegetable-like than blackberries.
25. Black Raspberry
If you enjoy eating raspberries, then you will also love black raspberries (Rubus occidentalis, also known as bear's eye blackberry, black cap, and black cap raspberry). They have a slight rounder shape but possess the same nutritional benefits as raspberries and have a similar taste. And just like raspberries, black raspberries can be a perfect addition to your smoothies and shakes.
26. Black Sapote
Black sapote (Diospyros nigra, also known as chocolate pudding fruit and black soapapple) perhaps makes the most interesting fruit on this list. Commonly known as chocolate pudding, black sapote has a distinct texture and taste similar to a pudding.
27. Blood Lime
Blood lime (also known as Australian blood lime) is a hybrid citrus fruit: a cross between the red finger lime (Citrus australasica var. sanguinea) and the "Ellendale Mandarin" hybrid. Aptly named given its unique skin and flesh color. On the outside, you will find a dark orange-colored skin and a garnet interior that makes the fruit look like a gemstone.   
28. Blood Orange
Blood orange is a variety of orange (Citrus sinensis). It may look like any ordinary orange on the outside but has a strong, tangy flavor that makes it an extraordinary fruit.
29. Blueberry
Blueberries are classified in the section Cyanococcus within the genus Vaccinium, and there are many blueberry varieties in this group. In North America, perhaps the most common cultivated species is Vaccinium corymbosum, the northern highbush blueberry.
Delicious blueberries can be eaten in so many ways: blend it into your favorite smoothie, add it to your breakfast cereal or bake a tasty blueberry pie; blueberries make a perfect addition no matter how you consume them.
30. Blue Tongue
Blue tongue fruit (Melastoma affine, also known as native lassiandra), gets its name from the interesting bluish-black fruit that stains the tongue. Blue tongue makes a popular fruit in Asia and Australia and is often consumed raw or made into grass jellies with a pleasantly sweet taste.
31. Bolwarra
Bolwarra fruit (Eupomatia laurina, also known as native guava and copper laurel) is native to Australia and has a unique, sweet taste. Bolwarra fruit is often used as a flavor enhancer in desserts and drinks.
32. Bottle Gourd
Bottle gourd (Lagenaria siceraria, also known as Calabash, white-flowered gourd, long melon, birdhouse gourd, New Guinea bean, and Tasmania bean) comes in several shapes and sizes. They can grow long or round depending upon the breed and are a popular fruit used in Asian cuisines.
33. Boysenberry
Boysenberry (Rubus ursinus x idaeus) is a hybrid of the blackberry (Rubus ursinus) and European raspberry (Rubus idaeus), so it resembles the shape of both and has a taste that's often described as a combination of the taste of raspberry and blackberry.
34. Bramble
Bramble is a generic name for thorny shrubs that grow several different types of berries, including raspberries, blackberries, and dewberries.
35. Brazilian Guava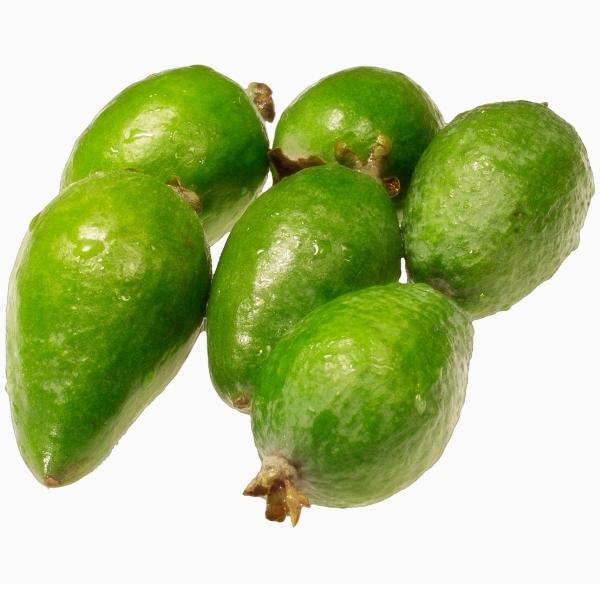 Brazilian guava (Psidium guineense, also known as Castilian guava, sour guava, and Guinea guava) is native to South America. The fruit is known for having a tart flavor that's similar to strawberry, but the taste depends upon the size and type of the fruit.
36. Brazil Nut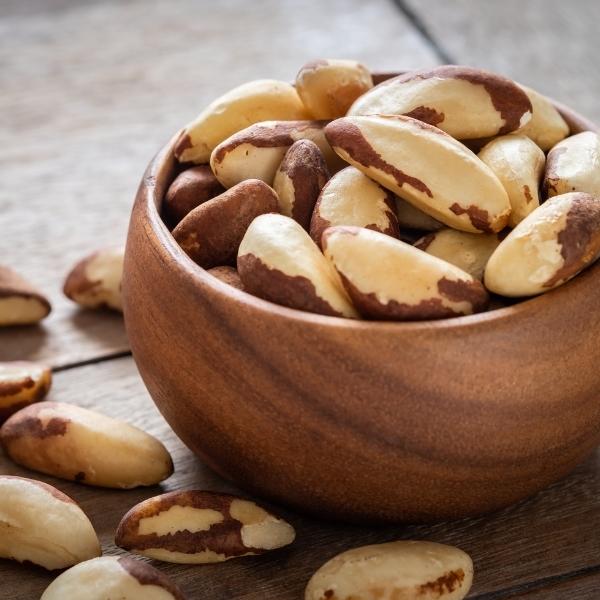 Brazil nut trees (Bertholletia excelsa, also known as para nut) grow in the Amazonian forests of Brazil, Peru, Colombia, and Ecuador. The nut is harvested for commercial uses, particularly for the production of brazil nut oil.
37. Breadfruit
Breadfruit (Artocarpus altilis) is round, yellow-green fruit with textured skin that's covered with small spines. When the fruit is cooked, its flesh has a texture that closely resembles bread.
38. Brush Cherry
Brush cherry (Syzygium australe, also known as scrub cherry, creek lilly-pilly, creek satinash, and watergum) is a rainforest tree native to eastern Australia. The brightly colored cherries can be consumed raw or made into jams and jellies.
39. Buffaloberry
Buffaloberry (Shepherdia, also known as bullberry) is another type of berry that's native to North American and grows in bunches. The large bunches of buffalo berries have a vivid red color with small white dots. Just like bear berries, buffalo berries also make a favorite snack for bears but is also loved by humans as it makes some really tasty jams and pies.
40. Burdekin Plum
Burdekin plum fruit (Pleiogynium timoriense, also known as sweet plum and tulip plum) is native to the Pacific Islands and Australia and is quite similar to a regular plum. It has dark-colored skin, and the fruit can be eaten once it is ripe.
41. Burmese Grape
Burmese grape (Baccaurea ramiflora) usually grows in Burma, and hence the fruit got its name. Burmese grapes grow in large clusters similar to grapes and are widely used in the making of wine.