"This site contains affiliate links to products. We may receive a commission for purchases made through these links."
Deciding on what to eat is not always easy, and if you are struggling to get your recommended five fruits and vegetables daily, you need to try out a new approach.
Here is a list of fruits that starts with A to give you an idea of getting your daily dose of minerals and vitamins. Fruits such as apples, avocados, and apricots make a popular choice of fruits that start with A, but several others are loaded with vitamins, minerals, antioxidants, dietary fiber, and a lot more.
Let's learn more about fruits that start with A.  
1. Abiu
Abiu (Pouteria caimito) fruits are similar in size to peach but have a more oval shape with a slightly pointed end. The fruit turns golden yellow when ripe. Simply cut the fruit in half to scoop out the soft flesh to enjoy the fresh abiu. People who have tried these fruits describe the taste of the fruit with a subtle hint of caramel. The peel isn't edible, so make sure you don't eat through it, just like you might do with a peach.
2. Acai
Acai (Euterpe oleracea) is considered a superfood. The grape-like fruit comes from acai palm trees, and like other berries, it is loaded with antioxidants and fiber.
While consuming acai brings several health benefits, it's best to avoid this fruit during pregnancy and lactation.  
3. Acerola
Acerola (Malpighia emarginata) is loaded with Vitamin C. Acerola closely resembles cherries and tastes fresh and slightly astringent but is quite different from cherries when it comes to nutritional value.
Over-consumption of acerola can lead to potential side effects such as digestive issues.  
4. Ackee
The ackee (Blingia sapido, also known as ankye, achee, akee and ackee apple) is native to Africa and the Caribbean. While it makes a popular fruit in Africa, South America, and the Caribbean and has several culinary uses, preparing meals with these fruits requires special preparations as some of the fruit may be toxic.  
5. African Cherry Orange
The African Cherry Orange (Citropsis articulata, also known as West African cherry orange, Uganda cherry orange, and locally as omuboro) is unusual citrus that tastes similar to tangerine. While there is a lack of scientific evidence, African Cherry Orange has several medicinal uses in Central and Western Africa.
6. African Cucumber
African cucumber (Cucumis metuliferus, also known as horned melon, spiked melon, jelly melon, kiwano, or cuke-a-saurus) is a traditional food plant in Africa. The fruit is loaded with minerals, vitamins, and antioxidants. Together, the nutrients present in this fruit can bring several health benefits, such as reducing inflammation and preventing chronic health conditions.
7. African Medlar
African medlar (Vangueria infausta) is another native African fruit that grows on small trees and makes a pleasant-tasting seasonal fruit. The fruit belongs to the family of apples and quinces and doesn't grow all year long. The fruit's taste is quite similar to that of an apple.
8. African Moringa
African Moringa (Moringa stenopelata, also known as cabbage tree) is native to Kenya and Ethiopia but is also found in other parts of the world. The African Moringa fruit is loaded with protein, vitamins, and minerals and brings several health and beauty benefits to its users.
9. Agave Plant
Most of you might not know, but several varieties of the agave plant are edible. The plant produces edible flowers during the final season, weighing up to several pounds. To consume the agave plant flower, it's best to roast them so they can be chewed like sugarcane. The fruit has a pleasantly sweet taste.
10. Aizen Fruit
Aizen (Boscia senegalensis, also known as hanza) fruits are yellow spherical berries that grow on a palm tree. The nutrient-rich fruit can be consumed directly, but you may also find jams, juices, and ice cream made from the extracts of this fruit.
Aizen fruit is loaded with minerals and vitamins, bringing numerous health benefits.
11. Alligator Apple
Alligator apple (Annona glabra, also known as pond apple, swamp apple, corkwood, bobwood, and monkey apple) is a tropical fruit native to the Americas, Florida, and the Caribbean. The fruit got its name as the alligators enjoy this fruit, but humans equally like it. You can find some great-tasting jams made from alligator apple as the fruit tastes quite similar to honeydew.  
12. Amazon Grape
Amazon grape (Pourouma cecropiifolia, also known as Amazon tree-grape, caimaron, and uvilla) is believed to be a native plant to South America. The fruit is tasty and yields delicious jams. However, since the tree is prone to diseases, the plant is not grown on a commercial scale.
13. Ambarella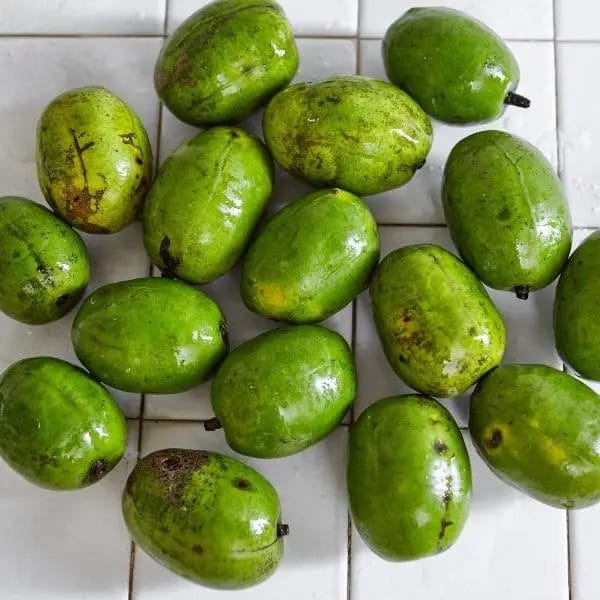 Ambarella (Spondias dulcis, also known as golden apple) is oval-shaped fruit with smooth, skin crunchy texture and sour taste. Ambarella is found in Polynesia, Melanesia, and Sri Lanka.
14. American Black Elderberry
The American black elderberry (Sambucus canadensis, also known as Canada elderberry) can be poisonous to humans. However, you can consume it after cooking as heat destroys the toxic element, glycosides, present in the seeds, making the berries safe for consumption.
15. American Chestnut
The American chestnut tree (Castanea dentata) holds fruits that contain edible nuts. The fruit looks like a green and spiny burr that usually encloses three nuts in it. The nuts taste sweet and crunchy.
16. American Hazelnut Shrub
The American hazelnut (Corylus americana) grows on a shrub or very small trees that produce nut-containing fruit. The nuts are sweet and nutritious, and fit for human consumption. The highly healthy hazelnut shrub nuts are equally liked by animals such as squirrels, deer, and turkey.
17. American Mayapple
American mayapple (Podophyllum peltatum, also known as American mandrake) is a delicious, but dangerous fruit. The entire American mayapple plant, except for the fruit, is poisonous, and it's best to limit the consumption of this fruit as even the seeds are toxic.
18. American Red Raspberry
American red raspberry (Rubus idaeus var. strigosus, also known as American raspberry) makes a popular choice of fruit among people of all ages, but not many people know that the tree's leaves possess several medicinal properties that are known to cure several ailments.
19. Apple
Apple (Malus domestica) makes a popular fruit among people of all ages. The fruit can be consumed raw or made into juices and jams and brings endless health and beauty benefits as it is loaded with minerals, vitamins, and fiber.
20. Apricot
Apricot (Prunus armeniaca) is a small, peach-like fruit that grows on small trees. Apricots are loaded with fiber, antioxidants, minerals, and vitamins that can keep you healthy.
21. Aprium
Aprium is a hybrid fruit that's produced as a result of cross-breeding of plum and apricot. Aprium was developed by Floyd Zaiger, and it's an excellent source of minerals, vitamins, and fiber.
22. Araza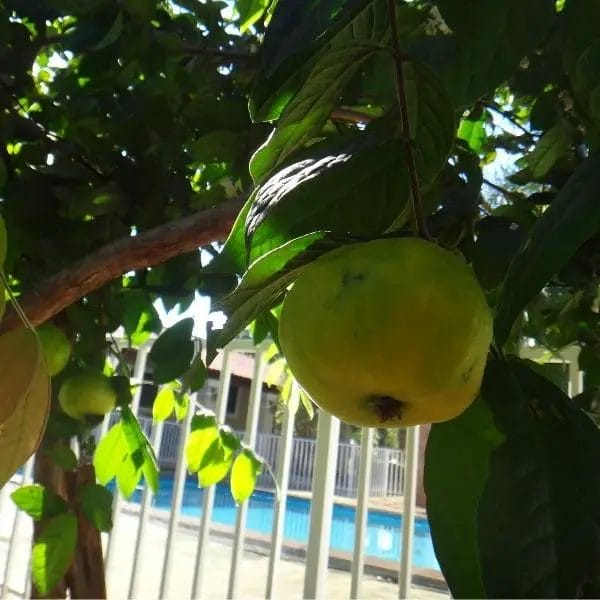 Araza (Eugenia stipitata, also known as araza-boi) is an exotic fruit that's native to the western part of Amazonia. While most people prefer to consume its juice, araza fruit can be consumed directly as it makes a great source of fiber, minerals, and vitamins. Araza fruit is rich in Vitamin C and contains double the content of an average orange.
23. Arhat
Arhat (Siraitia grosvenorii, also known as monkfruit and luohan guo) is native to southern China and Northern Thailand. Arhat fruit isn't usually consumed until it is completely dried. The fruit is rich in Vitamin C, which makes it a wonderful antioxidant for fighting signs of aging and a lot more.
24. Atemoya
Atemoya is another hybrid fruit, that comes from crossing cherimoya (Annona cherimola) and sugar apple (Annona squamosa). The parent fruits are native to tropical areas. Hence, you can find atemoya in a similar region. The fruit makes a distinct appearance with a unique heart shape and light green color.
25. Atherton Raspberry
Atherton raspberry (Rubus probus, also known as wild raspberry) is a small red berry that thrives in warm and tropical regions. It is native to Papua New Guinea and Australia. The fruit has a strong flavor that most people enjoy.
26. Avocado
Avocado (Persea americana) is loaded with healthy fats, minerals, and vitamins. People of all ages love the smooth, creamy texture of this amazing fruit.